IN/OUT
Cargo IN/OUT usually done by Forklift , operated by our skillful staffs.
Vanning/Devanning
Vanning/Devanning by speedy/accurate way, through commodity/Quantity check based on relative INVOICE/Packing List
Storage
Total 43,626m2 Warehouse space provide you efficient stowage management, with Nesting Rack for Streamlining. Also provide you bonded area and temperature-controlled (0C-5C),accepting foods.
Export Packing
To protect cargo from the impact during Shipping, we pack cargo with pallet firmly and rust-proofing if necessary.
Packing style have been changing from Wooden packing to Steel packing in view of Environment Assessment, and we
challenge for Returnable Pallet and re-use.
Machinery Assemble
We perform Machinery Assemble in 3 ways.
Ref (1): In accordance with Client specification, We install many parts to Tractor, and deliver after Movement check.
Ref(2): Cultivator assemble is unique i.e. Move whole production Line of the Factory into our Warehouse and
it serves as party of client production process.
Ref(3): To assist Client production, we provide parts procurement with Quality check, Sub-assemble, orderly-delivery into production Line.
Tractor
Cultivator
Sub-assemble
Imported Foods
Many operations like Quality check, Re-packing, Label for domestic sale. Also providing Temperature-Controlled warehouse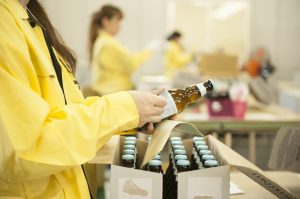 EDI
Through Net-work linkage with Client, we provide Timely information sharing